Friday you sexy beast! I am so happy to see you! As you can tell....Cornflake feels the same way too!
We've got a little bit of nothing AND a whole lot to do this weekend. Tonight I've got a lingerie shower and then tomorrow I'm bridesmaids dress shopping with my MOH #RideOrDie :) Steven is planning on doing a little landscaping and we've discussed having date night! Our social calendar has been so busy lately that we've not had a lot of time for dates. Yes, we've been together every weekend, but its just not the same.
For the shower tonight I made a dessert I found on Pinterest...
This is the "ultimate" bad dessert....peanut butter, oreos and brownies! While I make a bit of a mess in the kitchen last night, these were super easy to whip up and I'm thinking they might be my go-to for tailgating this fall! They are 100% husband approved!
I'm leaving y'all with a question for the weekend, and granted it happened five months ago, but are y'all interested in reading about our wedding? I didn't do a very good job in detailing things as they happened, but I could share everything about the weekend of.
Yes? No? Maybe?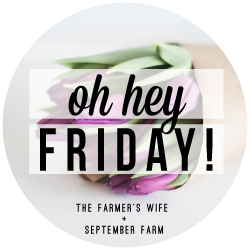 Linking up with the ladies for Oh Hey Friday today! See y'all next week!